Our Pastors and Worship Leader
Pastor Pete Martinez, Senior Pastor
Pete has a passion for carefully teaching and preaching the Word of God. As an electrician by trade, he knows that in order to get power you must be plugged into the source. Pete's desire is to teach people how to get plugged into the True Power, the True Source – Jesus Christ (Mark 14:62). Pete has been a pastor for twenty-three years, he has served as the senior pastor at Sonlit Hills for the last seventeen years. He is married to Yvonne, they have two grown daughters and two grandchildren. Pete has a heart for helping couples build strong marriages and helping them thrive and succeed. He also enjoys
ministering and reaching out to the homeless in our community.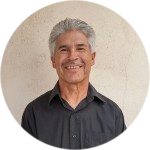 Pastor Solomon Sedillo, Assistant Pastor
Solomon is a graduate of Oral Roberts University in Tulsa Oklahoma, is a U.S. Army Veteran and has been active in the construction industry since 1981. Solomon and Kathy Sedillo have been married forty years and have two children. He is also a licensed minister with the New Mexico Ministry Network/Assembly of God and has been active in church ministry in Santa Fe since 1977.

Apollo Hernandez, Worship Leader
Apollo has always had a passion for music since a very young age. Now, God has blessed him with the opportunity to use this passion to lead people into the praise and worship of our Lord and Savior Christ Jesus. Apollo and his wife Vanessa have a blended family of four children, whom they eagerly raise to serve the Lord. They also serve in the children's ministry, which they love and enjoy.