The Matthew 25 Project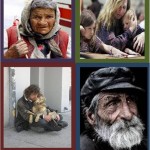 The Matthew 25 Project helps to feed, clothe, and ministers to the homeless, poor and needy in our community with the hope, love, and compassion of Jesus Christ.
Plan to join us sometime for street witnessing and handing out sack lunches to the homeless in downtown Santa Fe, for more information please call the church office.
On the third Sunday of every month we provide a hot meal to help feed the homeless at St. Elizabeth Shelter.
We also host several food, clothing and fast food gift card drives throughout the year to help benefit those in need.
If you would like to volunteer or donate items, please contact Yvonne at the church office (505) 471-1956.
For I was hungry, and you fed me
I was thirsty, and you gave me a drink.
Matthew 25:35